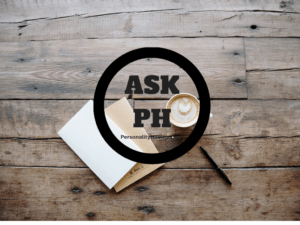 Hi Personality Hacker,
Is it possible that through a traumatic experience one's brain would rewire essentially flipping from say ENTJ to INTJ as a survival mechanism following the experience? Basically through experience can the natural Driver/Copilot swap seats because it's safer for the car? Have you ever come across something like this in your studies? –M
******************************
Dear M,
As we are not mental health practitioners it is difficult for us to predict how certain disorders impact the wiring of the brain. Based on our observations and the observation of a friend who does brain scans to determine cognitive functions, your brain is wired a certain way from birth. Culture, environmental influences, Enneagram type, Generation, etc. will influence how your type shows up, but you are always the same type. No rewiring occurs, but events in life can open you to different manifestations of the cognitive functions.
For instance, I'm an INFJ. For the first part of my life, I typed as an INTP. I wasn't an INTP, but I was living in a dominant/tertiary loop that was very unhealthy for me. Lately, I have been experimenting with psychedelics and am noticing an interesting awareness of "Authenticity" (Fi), so I am now typing as an INTJ. Does that make me an INTJ? Nope. I'm still definitely an INFJ. My wiring is still INFJ, but I am exploring emotions on a more internal framework which comes across as Authenticity (Fi). Does that make sense? As we grow and develop, we may enter different phases of our lives where different cognitive functions serve us better.
However, from what we have observed many people with a personality disorder or massive trauma will manifest their non-dominant functions. In the car model, these are the passengers in the back seat – the 10-Year-Old and 3-Year-Old.
So, an INTJ's non-dominant functions would be Authenticity (Fi) and "Sensation" (Se). This would look like someone who may be very sensory indulgent (Se) and prone to seek emotional indulgence or demonize the intentions of others (Fi). Motivation and relationship management may be a struggle.
There may also be some interesting interplay with unhealthy Intuition, like hypercriticism, a resistance to new experiences, or the paranoid belief that the world is out to get them.
If you are speaking of someone in your circle, I would recommend researching their cognitive functions and seeing how they show up in a healthy and unhealthy way. Then you can observe the person in question and see for yourself how they use their cognitive functions.
On another note, it is very hard to type people accurately who have mental disorders either from trauma or personality disorders. For instance, I was recently typing a friend who had experienced a traumatic event when her live-in boyfriend killed himself. She answered all the questions as an ENFJ, but she was an ISTP. So, in the grip of trauma and grief, she showed up as the mirror image of her actual type.
This is a podcast Antonia and Joel did awhile back that may have some more insight for you:
//personalityhacker.com/phq-questions-ways-unhealthy-personality-types-show-up/
And here are a couple more resources you can use for research:
//personalityhacker.com/is-your-learning-process-healthy/
//personalityhacker.com/podcast-episode-0068-developed-vs-undeveloped-decisions/
I hope that helps!
Charis Branson
If you have a question, you think will be good for the PH community, submit them to info@personalityhacker.com and put "Ask PH" in the subject line.
**The information contained on our website, blog, guest blogs, e-mails, videos, programs, services and/or products is for educational and informational purposes only and is made available to you as self-help tools for your own use. We are not trained mental health care providers or certified therapists. If you feel you need the help of a licensed counselor or physician, we encourage you to take whatever action you feel is in the best interest of you and your family.