Download Episode Here – right click link and select "Save Link As…"
In this episode, Joel and Antonia talk about sex, women and slut shaming.
In this podcast you'll find:
"Slut shaming" is the act of trying to make a woman feel bad for having differing sexual values, represented in things like sexual freedom and contraception.
While slut shaming can happen to men, it's far more common to be directed toward women.
It's not just men who call women sluts – it happens often between women.
A deconstruction of the phrase "why buy the cow when you can get the milk for free?"
It seems that men are more likely to shame women who have been a victim of rape, whereas women are more likely to shame other women who are freer with their sexuality.
At what point in our history did the need to control sexuality surface?
Socialization always gets attached to sexuality and how it 'should' be expressed.
In Prometheus Rising, RAW says that the only rule we have about sex is that there are going to be rules about sex.
Procreation is one of the fundamental things we do as humans.
Passing our genetic scripts is a major part of being human, so we create rules around when/how/who gets to pass on the script.
We try to give our children – the carriers for 'our' scripts – the best advantage we can. We want to give our resources to our children to give them the best shot.
How does a man ensure he's passing on his resource to his children (pre DNA testing)?
Even in the modern world, there are statistics that indicate that 1 in 5 women have 'cuckolded' the men they're with by having them raise a child not their own. These are the female equivalents to men who want to sleep with as many women as possible.
There is still a tendency between the genders to see each other as the earlier versions of ourselves (using our lizard brains and not being able to quell our impulses).
So, how do we control this? By making rules around sexuality to ensure that resources are passed to your young.
There are two kinds of laws around sexuality: laws from our governments, and social laws.
Our technological and social evolutions have outpaced our psychological evolution.
 Slut shaming is interesting considering that the sexual landscape has changed so much.
Those who slut-shame are often guilty, themselves, of seeing women as only being valued for what they can offer sexually.
We have the ability to go beyond our evolutionary programming.
Exercises we recommend in this podcast:
Self-discovery exercise: If other people's sexual choices bother you, ask yourself if the challenge is insecurity within yourself.
Things we reference in this podcast: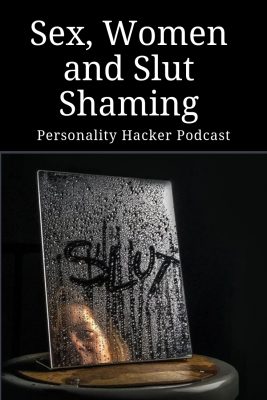 To subscribe to the podcast, please use the links below:
Subscribe with iTunes
Non iTunes Link
Download The Android App
Subscribe on Soundcloud
Subscribe with Stitcher
If you like the podcast and want to help us out in return, please leave an honest rating and review on iTunes by clicking here. It will help the show and its ranking in iTunes immensely! We would be eternally grateful!
Want to learn more?
Discover Your Personal Genius
We want to hear from you. Leave your comments below…