Download Episode Here – right click link and select "Save Link As…"
In this episode, Joel and Antonia talk about the art of receiving and how to use it in your personal growth journey.
In this podcast you'll find:
In our culture, we get a lot of emphasis on the importance of giving.
Giving is how we fight narcissistic tendencies and show compassion
We have lots of training on giving. No training on receiving.
The giver is nothing without the receiver.
If someone is attempting to give you something and you won't receive it, you are taking from them the ability to give.
Sometimes when we reject gifts from others, it is because we worry about feeling a sense of obligation to return the favor.
If someone gives a gift with the idea of trying to bind you to a contract, then it's not a gift.
The best way to combat a sense of obligation is to remove reciprocity off the table.
Pay it forward.
If we see every gift as a burden, it will result in us being crappy receivers.  
Remove obligation from the table as part of the transaction.
Sometimes we struggle with giving because we are afraid it will put the other person under obligation.
If someone feels an obligation after we offer them a gift that is on them, it shouldn't affect your giving.
In marketing, you are taught to use this feeling of reciprocity. Give something away, so someone will feel beholden enough to purchase.
In the act of receiving, sometimes it creates a dynamic where the receiver feels vulnerable – they feel like they have lost control of the relationship.
One of the best ways to be okay with this power shift is to remind yourself that there is nothing wrong with being vulnerable.
Vulnerability opens us to genuine connection with another human being.
If you find yourself getting upset when placed under obligation, it may be a sign of some intimacy issues.
Vulnerability is the antidote against feeling alone in the world.
Give yourself the opportunity to open up and be vulnerable.
Gifts don't always need to be tangible. We can receive gifts in words.
When someone pays you a compliment, how do you respond? Do you reject the compliment and point out all your failures? 
Why do we do this? Do we interpret words of affirmation as empty platitudes or flattery? Or are we convinced we need to be self-effacing?
Deflecting all gifts may be a fear that we don't deserve the gifts we are offered.
Get present with the situation and just let it be without judging it.
Get into your Perceiving or Learning process – N/S – which looks at life with curiosity from a neutral position.
The person giving you a gift isn't concerned about your worthiness, or they think you are extremely worthy. Realize that and rest into it.
Don't analyze the gift incentives at the moment. Be present and be a gracious receiver. Consider the incentives later.
Frequently energies that go out are the same energies that come back to us.
The universe is neutral as to what we will get, but we can influence those things with our behavior.
"I've got what it takes to have the life that attracts good things into it."
If you can't receive little things how will you receive the big things that come up in your life – like an ideal partner or job opportunity?
Shift from believing yourself undeserving to deserving.
Open yourself to the gifts of others and you will open to the gifts of the universe.
Instead of thinking, "Am I deserving of this gift?" say "Am I deserving of love?"
A gracious receiver accepts a person's love and says "I love you, too" because I'm not going to reject your gift of love.
All of us feel rejected when we try to give somebody love, and they won't receive it.
Stop seeing gifts as stuff and see them as manifestations of love.
"I will take your love and give you love back by accepting it."
Set the tone for being the kind of society who regularly gives and receives love.
Questions for discussion: When have you had difficulty giving/receiving? Did you grow up in a family that impacted your ability to give/receive?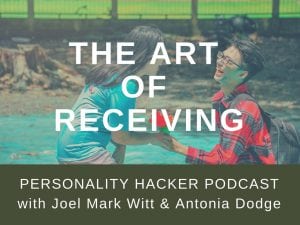 To subscribe to the podcast, please use the links below:
Subscribe with iTunes
Non iTunes Link
Download The Android App
Subscribe on Soundcloud
Subscribe with Stitcher
If you like the podcast and want to help us out in return, please leave an honest rating and review on iTunes by clicking here. It will help the show and its ranking in iTunes immensely! We would be eternally grateful!
Want to learn more?
Discover Your Personal Genius
We want to hear from you. Leave your comments below…