Download Episode Here – right click link and select "Save Link As…"
In this episode Joel and Antonia talk about how to develop a live mindset for personal growth.
In this podcast you'll find:
Most powerful component of your personal growth is your mindset – the soil from which everything else grows.

Mindset is your fixed mental attitude or disposition that predetermines your response to and interpretation of situations.

Mental inertia.

We have multiple different mindsets running at any given time.

Determine what your mindsets are and craft them into what you want.

The word Mindset may give us the idea that our minds are static, set. Mindset can be your default setting.

It's more like our minds are plastic. The mind can be changed but not with ease. Not in the moment. It takes work, forethought, and practice.

GPS units that are programmed in advance and difficult to change once the autopilot is engaged.

The mindsets we are working with are the programming we put into our autopilot at some point and usually don't revisit.

Also, if we keep reprogramming our GPS/mindset, we will find it difficult to accomplish anything.

The brain's idea of efficiency may not be the most efficient thing for our lives and how we want to be perceived by the world. The brain creates a neural pathway and keeps using it as a form of energy conservation. But our desires for change and renewal run contrary to the brain's desire for following already established pathways.

We're not recommending putting amplified thought into every aspect of your lives. That is unsustainable.

We recommend people be more thoughtful about their autopilot. How they are programming it. Not outsourcing beliefs and values.

If you develop the live mind style, it becomes an active, daily discipline that keeps tabs on that GPS pilot, to ensure you are going toward a live place instead of a stagnant place.

Close minded and open minded is your willingness to take in new info – Not necessarily a predictor of action.

Dead mind vs. live mind is more dynamic.

Dead mind:

Has a static way of thinking. It's stuck.

One identity.

Focuses on problems.

Info phobic – doesn't want to have to adapt.

Focused on answers. Like to tie up loose ends.

There's an assumption that all the answers have already been discovered, so it stops exploring.

Not necessarily a conscious belief.

Live mind:

Has a dynamic view – of things and self.

Focuses on solutions.

Excited about new info – new input brings growth and change, which is good.

Asks right questions that lead to new questions.

Believes we don't know the answers to anything.

The advantage with live mind is that you learn the skill of being able to alter your perspective/paradigm as you discover new info. You don't have to go down with the ship if your old model turns out wrong. You've built the skill of not doubling down on info.

Better to see as a sliding scale than a toggle.

It is a discipline we have to build skill in and maintain, or we will go to the easier path of being in a dead mind place.

True adaptability gives you tremendous personal power. It's not about being a doormat.  

Not being a chameleon as much as just being willing to hold things loosely.

Be willing to meet people where they are.

Develop it as a discipline or lifestyle.

Lots of immediate payoff to being in a dead mind place. Ego is always right.

The payoff to a live mind is over time. It's a longer game.

When you move from a dead to a live mind, your ego starts taking hits. Being wrong is hard. Making mistakes is hard.

The live minded long game starts to feel good when the ego takes a hit because it means you are learning. There's an opportunity for change and refinement.

When you are in a live mind, it is going to touch every aspect of your life.

We have to reorient our identity sometimes.

We aren't saying you can't ever stand for anything or believe anything strongly.

A live mind has enough ability to reevaluate what you're fighting for. Is it worth fighting for it?

Strategies for developing live mind:

Matter of pursuing content and info that directly contradicts some of your most beloved beliefs and paradigms. Don't necessarily adopt the opposing perspective, but stay aware of it.

The goal of live mind is to ensure you are betting on the right horse.

Live mind helps us question our assumptions.

Sometimes it helps to admit, at the moment, when your ego is taking a hit.

Our most accurate guiding star is the ego hits or triggers. Triggers are often a sign that your ego is flaring up. Use that to reevaluate then rest as your ego adapts.

One of the major advantages in pursuing the discipline of a live mindset is that it prevents you from being addicted to being right.

When someone is addicted to a belief system they act like junkies if you try and take it away.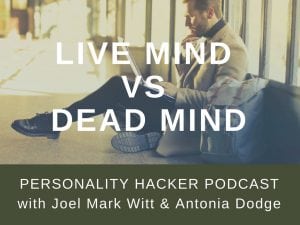 To subscribe to the podcast, please use the links below:
Subscribe with iTunes
Non iTunes Link
Download The Android App
Subscribe on Soundcloud
Subscribe with Stitcher
If you like the podcast and want to help us out in return, please leave an honest rating and review on iTunes by clicking here. It will help the show and its ranking in iTunes immensely! We would be eternally grateful!
Want to learn more?
Discover Your Personal Genius
We want to hear from you. Leave your comments below…