Download Episode Here – right click link and select "Save Link As…"
Personality Tools: The Graves Model, aka "Spiral Dynamics"
According to Spiral Dynamics, six things have to be in place before a person can go from one level of the graves model to the next.

Don Beck (author of Spiral Dynamics) consulted with Nelson Mandela.

The Graves model has helped to create systemic changes in South Africa.

The six things that have to be met in your life before you can move to the next level:

1) Potential: Live Mind vs. Dead Mind podcast.

Opened, closed, or arrested mind.

Open mind is a readiness to move into new ways of being. Flexibility, adaptability.

A closed mind is the belief that this is all there is. There is nothing you can change. Seven things indicate a closed state, such as perfectionism, insatiability, undo response to frustration/ blowups, creating a shell around you, impenetrability. Fear of loss.

Arrested mind has a proclivity to being open to new ways of being, but they don't want to rock the boat and destabilize their world. So they hold themselves to a loop.  If you find yourself in a closed state, try graduating to a more open place.

Your Graves level is where you are personally at in your development. Your world view.

The environment that surrounds you is called "Life Conditions" in Spiral Dynamics.

If your level matches the challenges you are experiencing in your environment, then that is the appropriate level for you.

2) If you have solved all the problems on a given level you are ready to move on. But if there is still some conflict with your current level, you aren't qualified to move on. You don't have the tools to enter the next level.

"Zone of Comfort" – All solutions have been put in place to solve all the challenges of current and previous levels.

3) If you have solved all the problems in the current Graves level you will start noticing problems arising that you can't solve by current level standards. So some dissonance comes along, and you realize that you need new open ways of being to solve the new challenge.

4) Responsibility. There might be structures in your way that are blocking you from moving to the next level; could be your spouse, employment, or religion – whatever stops you from moving forward.

Antonia's mom has lived her entire life in Graves Level 4. Her dad is Graves Level 5 and has been since he was a young adult. He started peeking into Graves 6 when he was in his 50s, but he realized he would be leaving his wife behind. He wasn't willing to leave her behind so he has chosen to stay in Graves level 5.  

"Move from identified to overcome." Eliminate the barrier, bypass it, neutralize it, or reframe it into something else.

Sometimes our shifts can create shifts in others. Have faith that removing the barrier isn't going to be the end of the world.

Identity is the barrier that prevents most people from moving forward.   

When an entire institution is ready to level up, it may feel like identifiers will be lost. Whatever vacuum is created by leveling up is soon filled by something that fits us better.

We let go of attachment to that identity. You don't lose all of it, just aspects that are no longer necessary.

5) Insight. "What got you here won't get you there." What has been working won't keep working. Hundreds of years ago, walls were logical boundaries to keep out people. The Great Wall of China served its purpose a few hundred years ago. But walls don't work as well now.

It suddenly dawns on you that the things that have always worked in the past just aren't going to work anymore.

A hammer has always worked. But if you are trying to sink a screw, the hammer isn't the right tool.

6) Consolidation. Supportive structure to enable us to level up. Then supportive structures to help us once we reach the next level.

Particularly necessary in even levels (2,4,6) –  more community focused.

Not as necessary in odd levels (3,5,7) – more individual focused.

When you go up a level, you have a renewed zest for life. You're also fairly klutzy. It's nice to have someone who holds space for you while you adapt.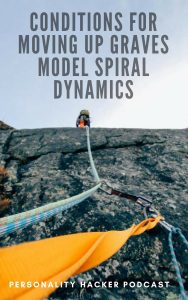 To subscribe to the podcast, please use the links below:
Subscribe with iTunes
Non iTunes Link
Download The Android App
Subscribe on Soundcloud
Subscribe with Stitcher
Subscribe on Google Play
If you like the podcast and want to help us out in return, please leave an honest rating and review on iTunes by clicking here. It will help the show and its ranking in iTunes immensely! We would be eternally grateful!
Want to learn more?
Discover Your Personal Genius
We want to hear from you. Leave your comments below…