Download Episode Here – right click link and select "Save Link As…"
In this episode, Joel and Antonia talk about transitioning into your own person while changing your relationship with your parents as an adult.
In this podcast you'll find:
Graves Level 3 – Red: Warlord

Usually, people enter this transition in teen years.

Some people have a truncated experience with Graves 3, so they may still have an attachment to parents that isn't healthy.

On the other extreme, a person can experience Graves 3 so strongly that they have permanently severed their relationship with their parents.

At some point, we make the transition where we no longer have to be a dependent.

Rebellion starts to wane as we reach adulthood and our relationship with our parents will often shift again to a healthier place.

Parents may not want the relationship to change.  

A person's dependency on parent's worldview may not always be financial; it may be ideological.

DNA level programming tells us to rely on our parents for safety and instruction, which is why a parent's betrayal is so painful.

We pass on our DNA to our children, but we also pass on our ego. Our expression of who we are.

The ego itself wants to live. People put their names on buildings, gravestones, children.

We download all of our BS into the pristine little hard drives of our children.

We are programmed to seek our parents, and our parents are programmed to download their egos into us.

Cords can tie us to our parents, and our attempt to separate can cause some resistance.

Add in ideologies where your parents taught you a specific belief system, and it becomes a more significant burden to the next generation.

Stephen Covey's Dependency Model:

Dependence – complete reliance

Independence – Zero reliance

Inter-dependence – contextual reliance

As children, we are extremely dependent upon our parents.

As we grow older, we become more independent.

As we mature, we begin to value the relationship we have with our parents, as peers.

The more idyllic a childhood, the more likely someone will crave the safety that came with their Graves 2 experience.

Such an adult can find it hard to generate safety from within, so when a parent dies the adult child feels unsafe.

A non-idyllic childhood could look like a child's neverending need for approval. Followed by resentment after realizing their childhood was colored by their parent's choices.

When you have an unhealthy relationship with your parents, your connection to them can be profound.

Find the peace within yourself.

It's incredible how much our parents can still influence and trigger us no matter how old we get.

This may come down to how we make peace with immortality.

We know they are trying to infuse their ego on us.

Make peace with your parent's death.

Let go of the responsibility that you have to keep their memory and attachments alive.

Are you keeping traditions alive because of a sense of responsibility to your parents?

It's okay that an ego dies. Express your ego in your way. Live your life.

Make a list with your parent's names at the top.

List their core values.

Write down your core values.

Compare and contrast the two lists.

You don't have any responsibility to your parent's frame of reference – especially if they weren't very good parents.

Most people try to improve upon the way they were raised.

You aren't stuck in your point of origin. It doesn't define your future.

All the stuff you were looking for from your parents is actually within you.

Real parenting is preparation. Teaching the child to be an autonomous human being.

Take your power back.

The true definition of peace with your parents is forgiving them then realizing there is nothing to forgive. They did their best.

Find the power within you to get the needs met that were missing during childhood.

You will know you have healed when there is no more resentment or blame.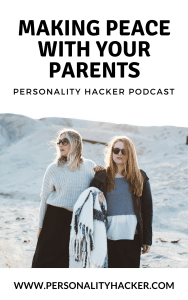 To subscribe to the podcast, please use the links below:
Subscribe with iTunes
Non-iTunes Link
Download The Android App
Subscribe on Soundcloud
Subscribe with Stitcher
Subscribe on Google Play
Subscribe with Facebook Messenger
If you like the podcast and want to help us out in return, please leave an honest rating and review on iTunes by clicking here. It will help the show and its ranking in iTunes immensely! We would be eternally grateful!
Want to learn more?
Discover Your Personal Genius
We want to hear from you. Leave your comments below…