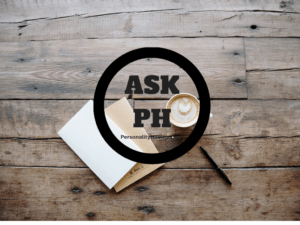 Hi Antonia,
Thank you so much for the work you and your husband do, first of all. I found your site a couple of weeks ago and have just immersed myself in the podcasts available on my type (INTP) and that of those I'm close to and have found it so incredibly helpful. I never fully understood the cognitive functions using just the Myers-Briggs typing system, so your car model has been very useful. I am starting some personal growth projects focusing on exploration and putting myself in new situations that I would never have done before, and I am so excited to go through this process and see what comes out on the other side.
I wanted to email you personally because I have a personal question that I would very much appreciate your advice on. All of the podcasts and articles on personality hacker are clear and helpful but for some reason the way you explain things just sticks in my mind and is more clear to me personally. Maybe because we're NT chicks, I'm not sure. Anyway, I've just listened to your podcast Cognitive Functions in Relationships, and I found it so helpful. However, I'm still left with a question: is it possible for any two types to have a healthy, enjoyable relationship? More specifically, say two people in a relationship have completely opposite cognitive functions. Is it possible for them to understand each other fully and have a growing relationship, or would each be better off looking for someone with whom they "match" with more?
Of course, this isn't entirely hypothetical; I'm an INTP and my closest male friend, an INTJ. We have alternately considered a relationship with each other. He is the one who introduced me to Myers-Briggs personality types, and I believe a big struggle for both of us is the 'logicalness' of our relationship. Our function stacks are completely opposite, we're both introverted and struggle with the feeling aspects of our personalities, and I lead with a judging driver and him a perceiving. So with all that working against us, our logical minds say that it shouldn't work. It is hard for me to separate that knowledge from how I actually feel. I guess my real question is, how do you know when to stop listening to the logical data and go with the gut feeling instead?
I understand this is a deeply personal question and has many possible answers, so if you feel it is too delicate a subject to speculate on I completely understand. That's why I sent this in a personal email rather than submit a question on the site, but if you'd like to make this a subject of a podcast, I would be very interested in your thoughts. Thanks for listening to me babble on, and again THANK YOU so much for your insights!
******************************
Dear INTP,
Thank you for your question. Antonia doesn't respond to personal emails anymore due to some pretty heavy time constraints. So, she forwarded your message to me.
We believe any pairing of any type can succeed together. Knowing one another's cognitive functions will help to predict possible blind spots and struggles.
An excellent exercise is to write out your cognitive function stack side by side and compare where each function lands in the Car Model.
iNtuitive and Sensor functions are learning processes.
Thinking and Feeling functions are decision-making processes.
You will notice that INTPs lead with a thinking decision-making process called Introverted Thinking (Ti), which shows up as much more decisive. An INTP will be quicker to make a decision, usually, than an INTJ.
INTJs lead with a learning process, so they are going to be more interested in gathering information before they make a decision. Even though the INTJ is a Thinker, their decisions are going to have more of a feeling component than INTPs whose Feeling Function (Extraverted Feeling) is a blind spot.
So, an INTP will ask, "What makes logical sense?" Then make their decision based on whatever criteria makes the most subjective sense. Usually, the human element does not come into the equation.
An INTJ will ask,"What makes sense from a systemic perspective? What works?" Then they will follow that up with, "What feels right to me?" This conscious feeling part (Introverted Feeling – Fi) of the INTJ will seem a bit perplexing to an INTP at times.
Possible blind spots you both share:
You're both introverted, so getting out and socializing may be a struggle.

You're both Thinkers, so you will have to remember to take into consideration the human element. INTJs will have this on their radar more than INTPs because of their tertiary Feeling process.

You both struggle with motivation. Ti and Fi need inner world alignment. If something doesn't align just right, the motivation won't be there. 

Both INTPs and INTJs are accustomed to being smarter than most people, so you may find your arguments revolving around who is right. A long-term approach would involve both realizing that a healthy relationship is more important than who is right or wrong. Some ego transcendence work can also help. Losing an argument doesn't equal death. Being wrong doesn't make you less intelligent.

You are going to organize your lives differently. The INTP is a Perceiver, so they prefer a little chaos in their environment and often struggle with getting to places on time. The INTJ is a Judger, so they prefer more organization in their environment and may actually hate being late.  

INTJs and INTPs can get caught in a loop of believing the rest of the world is too stupid. Try not to get trapped in this loop. Have fun with it on occasion. My hubby and I watch paranormal shows and loudly point out how ridiculous most of the people are while we poke holes in their evidence. But if all you ever do is focus on how inept the rest of the world is it isn't a positive place to be and may force you both into an introverted loop where neither one of you is showing up as your best self, which would be detrimental to the relationship.
Possible benefits you can bring each other:
If both are willing to compromise and make the relationship a priority, the INTJ can learn to embrace the spontaneity and openness of a Perceiver. And the INTP can learn the value of organization and planning.

In Hardwired for Wealth, Antonia calls INJs The Planners and INPs The Supporters, which is a good pairing. The Planner can create the strategy, and The Supporter finds a way to make it all happen with the best possible results.

I can see some great conversations in this pairing, where each will be able to see the holes in the other's reasoning and help each other refine their data.

You will be the smartest couple around, and everyone will want you on their trivia team.

You may also be intimidating to others and find life a bit lonely unless you work hard to be open and personable with people. The INTP may find this easier than the INTJ, believe it or not. INTPs who have spent a lot of time exercising their co-pilot function will find people just as fascinating as any other source of data.
If this relationship becomes a thing, I see it as a huge learning opportunity for both parties — like most relationships. I believe we attract the people who have something to teach us.   
Will the relationship last? That cannot be predicted no matter the pairing of personality types. It depends too much on the individuals, circumstances, and personal growth of the people within the relationship.
Hopefully, I gave you some things to think about though.
*If you are an INTJ or INTP and some of the things I discussed above don't resonate with your experience of your type, please remember we all fall on a spectrum. Due to a multiple of nodes in our system (environment, culture, enneagram, Zodiac, etc.), there may be some variation. I am discussing INTP vs INTJ from an MBTI perspective alone. 
If you have a question, you think will be good for the PH community, submit them to info@personalityhacker.com and put "Ask PH" in the subject line.
**The information contained on our website, blog, guest blogs, e-mails, videos, programs, services and/or products is for educational and informational purposes only and is made available to you as self-help tools for your own use. We are not trained mental health care providers or certified therapists. If you feel you need the help of a licensed counselor or physician, we encourage you to take whatever action you feel is in the best interest of you and your family.