Download Episode Here – right click link and select "Save Link As…"
In this episode, Joel and Antonia compare how feelers and thinkers experience feelings and talk about which type is more emotional.
In this podcast you'll find:
Are feelers more emotional than thinkers? The online buzz surrounding this question.

What's the difference between experiencing emotions and using a feeling function to make decisions?

Carl Jung's

definitions around feeling emotions in the body

The degree of separation between feeling the emotion and making the decision for feelers.

Thinkers – what's the difference between thought and a thinking function?

Is there a greater gap between our thoughts and thinking function than there is between our emotions and our feeling function?

Joel's experience as a feeler – does he feel more emotional than thinkers?

Antonia's experience with thoughts and feelings as a Accuracy (Ti) user.

The pendulum swing – how the world has shifted from over-valuing thinking to over-valuing feeling.

The myth that all feelings should be acted upon – why it's important to develop a mature relationship with your feelings.

How feeling types can be cavalier with emotional data

Some differences between Authenticy (Fi) and Harmony (Fe)

How emotions motivate thinkers.

How we're wired to be intrinsically rewarded for using our preferred functions.

What does it look like when a feeler has well-developed emotional intelligence?

What are emotional "triggers"? 

Looking at SpongeBob SquarePants 

as an example of personal agency.

Why feelers make their best decisions based on emotional criteria – and how, ironically, they can appear less emotional when they do this.

Some thoughts on the intellectualization of emotions.

Why we need to process feelings of guilt and shame.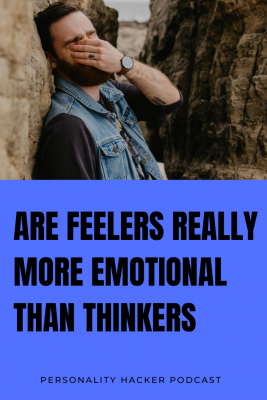 To subscribe to the podcast, please use the links below:
Subscribe with iTunes
Non-iTunes Link
Soundcloud
Stitcher
Google Play
Spotify
Radio Public
PlayerFM
Listen Notes
If you like the podcast and want to help us out in return, please leave an honest rating and review on iTunes by clicking here. It will help the show and its ranking in iTunes immensely! We would be eternally grateful!
Want to learn more?
Discover Your Personal Genius
We want to hear from you. Leave your comments below…